Current In-game name: [_Hamid_]
Date of birth (DD/MM/YYYY): 3/05/1993
Preferred name if accepted (Must include the [SR71] tag): [_Hamid_][SR71]
Have you previously held a position in SR71? If so, what were the conditions for leaving or being revoked from your previous position?: No.
Age: 24
Your skills and profession: sawn off, Sniper and hydra.
Are you experienced with flying hydras and/or rustlers (Will be tested)? hydra
]Image of your in-game stats: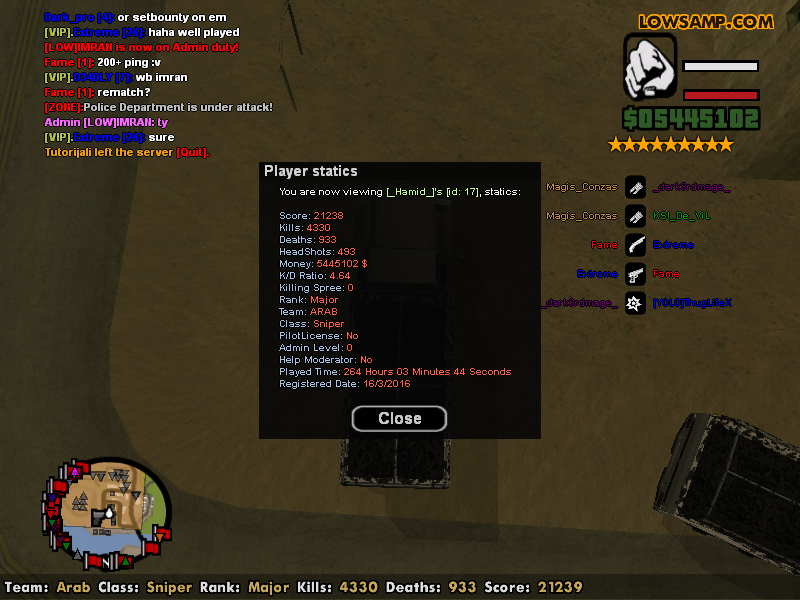 [_Hamid_]




Posts

: 24


Reputation

: 0


Join date

: 2016-04-02



Applicant passed the first stage of the recruitment process of SR71, congratulations.

Now we are at the second stage which is the last before the procession of the application. In order to join SR71 you have to successfully pass the Practical Flying Assessment.

Please choose one of the options below to finish this stage.

- Dogfight (Either with a Rustler or Hydra at your discretion) against a current SR71 Member. You'll have three attempts to shoot down the member, with you having 3x the HP of the opponent.

- A stunt (Either with a Rustler or Hydra at your discretion), we choose a random stunt for you to perform at and complete - the stunt will only be required to be done upright and not upsidedown ONCE; Upside down may be done at your own risk! You will also get three chances to perform the given stunt.
if I was bad in your view, the Problem must be is in your Eyes

[BLS][LOW]IMRAN

Lead Admin




Posts

: 2491


Reputation

: 56


Join date

: 2016-07-18


Age

: 22


Location

: Morocco



*the player selected Stunt with hydra
*Player has passed the test and is now an official member of SR71!
Congratulations
if I was bad in your view, the Problem must be is in your Eyes

[BLS][LOW]IMRAN

Lead Admin




Posts

: 2491


Reputation

: 56


Join date

: 2016-07-18


Age

: 22


Location

: Morocco




---
Permissions in this forum:
You
cannot
reply to topics in this forum