format application: GTA SAMP [online]
name in game:Nam
Date of birth : 20/4/1997
Preferred name if accepted:RockStarGame[SR71]
Have you previously held a position in SR71? If so, what were the conditions for leaving or being revoked from your previous position?:I have not held one position in [SR17]
Age:19
skills and profession:hydra,student
Are you experienced with flying hydras and/or rustlers (Will be tested)?: yes, just hydra
Image of your in-game stats: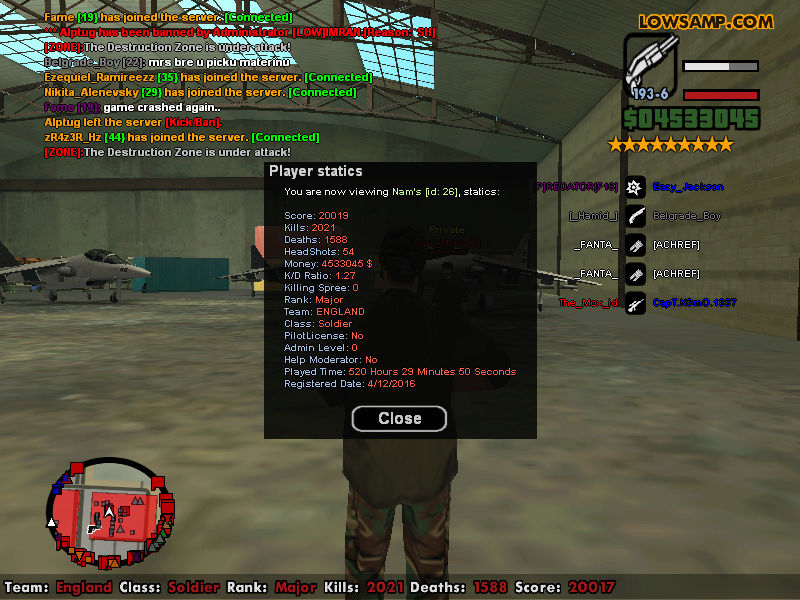 -tAcknowledgement that you have read, understood and interpreted the clan rules; and any punishment that is deemed within reason of breaching any act [Only requires a Yes/No answer]: Yes
Last edited by Nam on Mon Mar 06, 2017 7:07 am; edited 2 times in total (Reason for editing : wrong photo)

Nam




Posts

: 4


Reputation

: 0


Join date

: 2017-03-05


Age

: 18



Sorry, you don't meet the requirements to join the clan.
H2O's To-Do list:

1. Ban all the Lords OF War staff members.
2. Irritate [LOW]Vampire until he resigns.
3. Find [LOW]Bone[C]rusher in-game at least for 1 time.
4. Get banned for being so good.
5. Slap Imran while on 50 Killing spree (sad).
6. Give P3pSy a camel for his next birthday.
7. Break the world's masturbation record.
8. Detonate Stephanie's house along with his ISP.
9. Ban zeref420 for hacking (Unfair) for being so good (That's bad).
10. And finally, never reach 100,000 score.

Ahmed aka H2O

Very Important Person




Posts

: 1143


Reputation

: 33


Join date

: 2015-11-17


Age

: 18



---
Permissions in this forum:
You
cannot
reply to topics in this forum