Current In-game name: Extremely_Lame
Date of birth (DD/MM/YYYY): 12/8/2003
Preferred name if accepted (Must include the [SR71] tag): Extremely_Lame[SR71]
Have you previously held a position in SR71? If so, what were the conditions for leaving or being revoked from your previous position? Nope. If i leave, i am not going to join any clan anymore.
Age: 14
Your skills and profession: Shooting sawnoff shotgun
Are you experienced with flying hydras and/or rustlers (Will be tested)? Hell yeah, but only with rustler
Image of your in-game stats: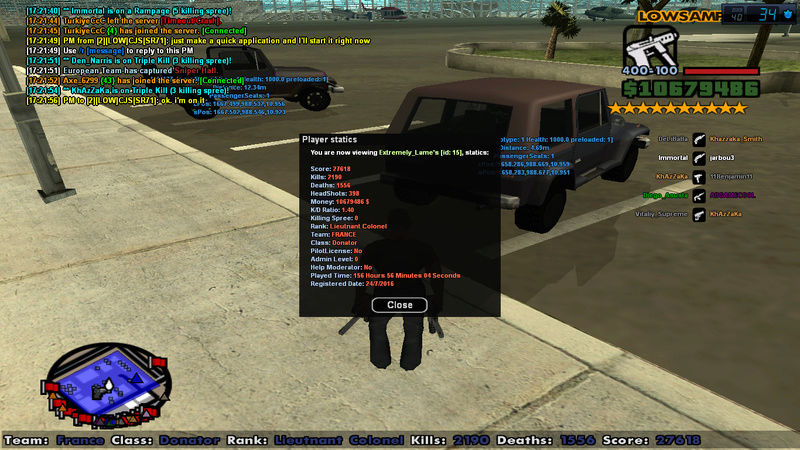 Acknowledgement that you have read, understood and interpreted the clan rules; and any punishment that is deemed within reason of breaching any act [Only requires a Yes/No answer]: Yes
Last edited by Bruce Lame on Sun Jan 08, 2017 3:12 pm; edited 1 time in total
Players application has passed the first phase with the second commenced, the results will be posted upon the outcome of the PFA.
Intel i7 5930k - MSI GeForce GTX 1070 Sea Hawk X 8GB in SLI - EVGA GeForce GTX 1060 SC 3GB dedicated PhysX - Cooler Master Cosmos II Ultra -  Thermaltake Water 3.0 Ultimate - EVGA SuperNOVA 1200-P2 1200W PSU - Corsair Dominator Platinum 32GB DDR4 2666MHz - MSI X99A GODLIKE Carbon Edition - Samsung 256GB 840 PRO Series SSD - Samsung 500, 250 & 120 GB 850 EVO SSD's - Seagate Barracuda 1, 2 & 3 TB HDD's - LG 31MU97 31" True 4K monitor - Corsair K95 RGB - Logitech G900 - 9.2 channel Yamaha RX-A3050 surround sound system with Presence DSPs
Applicant has passed his PFA and is now an official member of SR71!
Intel i7 5930k - MSI GeForce GTX 1070 Sea Hawk X 8GB in SLI - EVGA GeForce GTX 1060 SC 3GB dedicated PhysX - Cooler Master Cosmos II Ultra -  Thermaltake Water 3.0 Ultimate - EVGA SuperNOVA 1200-P2 1200W PSU - Corsair Dominator Platinum 32GB DDR4 2666MHz - MSI X99A GODLIKE Carbon Edition - Samsung 256GB 840 PRO Series SSD - Samsung 500, 250 & 120 GB 850 EVO SSD's - Seagate Barracuda 1, 2 & 3 TB HDD's - LG 31MU97 31" True 4K monitor - Corsair K95 RGB - Logitech G900 - 9.2 channel Yamaha RX-A3050 surround sound system with Presence DSPs

Similar topics
---
Permissions in this forum:
You
cannot
reply to topics in this forum