Your in-game Name:-
.SHADOW.
Your in-game Score:-5000+
Your Age:-15+
Why Would You Like To join our BLS clan(Required 100 Words):-As u all know i was always a part of this clan but i was banned and i evade my ban again again but i have given a chance and chance means chance as i stop hacking even blackbeard chack my pc i also like this because ita a great tag and i also ahave friend in this clane like deathwish,zeuse and deathkillerz.what ever it has a great wepone tec 9.alll members of clane are to much respectful i love them and to post this topic the permissione was taken by leader [LOW]ZEUSE.i realy like this clane and i will also do my best to help this clane and become leader of clane thanks for all how make this best clane.
After you are accepted you will follow the rules?:-yes i accept.
What Language Do You Speak?-English
With What Weapon are you good?-Sniper And Tec 9.
Were you in another clan? If you were why did you leave?-no i was not.
Do you plan to help the clan with ideas or contributions(Yes-No)?yes
Picture of your in-game Stats:-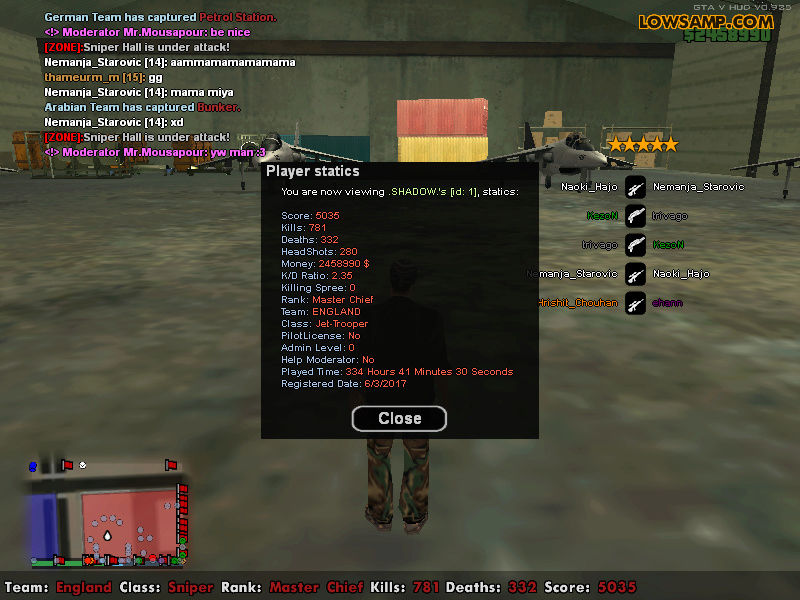 Do You Agree That if You Dont Stay Active or Play in Wrong Team Will You Be Kick:-
yea i agree and i will be in france.

SHADOW[BLS].




Posts

: 146


Reputation

: 0


Join date

: 2017-03-21


Age

: 16


Location

: Pakistan/Islamabad



You will be given one more chance.
- Welcome To BLS -

- Congratulations -


- Accepted as Sergeant -
_________________


[LOW]Zeus[BLS]

Moderator




Posts

: 604


Reputation

: 11


Join date

: 2016-11-29


Age

: 20


Location

: MADRID



Congratulations, Sergeant.

Poster[BLS]




Posts

: 131


Reputation

: 0


Join date

: 2017-04-02


Age

: 26




Similar topics
---
Permissions in this forum:
You
cannot
reply to topics in this forum